Why India is in the vortex of global geopolitics as world affairs increasingly become fluid
It is the inability of the Western alliance to find significant alternative manpower to fight a major war, especially in Asia, that makes India such a vital potential partner for the US in a possible war with China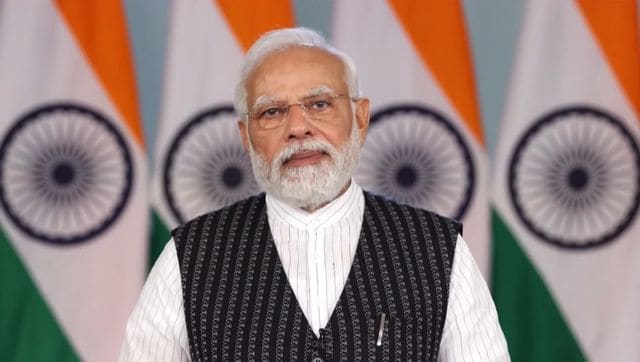 Indian politics are remarkably inward-looking, with little consciousness of its place and role in the dynamics of the wider world. There is of course parochial awareness of events that directly impinge on India, but that is mostly reactive. Indians are concerned with conflicts in the neighbourhood and its benighted elites are obsessed with the charms of a supposed good life in the US that beckons and a comical aspiration to holiday or honeymoon in Switzerland. Yet, the cut and thrust of domestic political debate exhibit little awareness of the degree to which India's economy itself is entangled with the world economy. India's GDP trade ratio is 42 per cent which means what happens in the outside world has a significant impact on India. But it is domestic economic policy alone that is held responsible for the level of economic activity and employment in India.
This ingrained shortcoming is much worse in the understanding of most Indians of India's involvement and role in global geopolitics. There is currently huge discussion in India of the attempts of Western powers to destabilise the government of Narendra Modi, but the real rationale for it is barely grasped. There is a firm conviction that the West is jealous of India and seeks to thwart its rise to inevitable greatness. There is also specific mention of the causes of foreign hostility, from India's unexpectedly successful UPI, the sudden surge in the export of refined petroleum products to its very attempt to enhance self-reliance, especially in defence. Western hostility towards such Indian aspirations, especially consequential US disquiet, may indeed be a factor. But there is a failure to identify the vital geopolitical calculus that underlies the undoubted desire to destabilise Modi's India and plant a government in it that can be controlled.
The context of such attempts to turn India into a vassal has long historical antecedents but the determination to achieve the goal has been acquiring moment since the dissolution of the USSR in 1991 and has acquired urgency in the past decade or so. Once the West and the US emerged victorious in the Cold War it was predictable that the US would proceed to consolidate the fruits of that hard worn triumph. It is graphically highlighted in the expansion of NATO, from 16 original members to the current thirty, mostly after 1991. Ukraine is poised to become the thirty first and the most critical addition to NATO's enlargement that has been unfolding over two decades. Ukraine's entry into NATO would finally seal the Western victory that began with Mikhail Gorbachev's ill-advised retreat. He had proceeded to practically flee from the Eastern Europe helter-skelter. Gorbachev quite failed to anticipate the forces of inevitable geopolitical checkmate that would subsequently unfold to threaten the very existence of the successor rump of Russia as a consequence.
The dynamics of the US seeking to consolidate its victory in the Cold War is an aspect of the iron laws of international rivalry and politics. But what the US had not anticipated was that the Chinese reprise, which it had chosen to wield against the USSR since the early 1970s, would backfire massively against it. This was truly a case of boundless arrogance and hubris that allowed China to steal US intellectual property and sensitive technology on an industrial scale. This shocking phenomenon was compounded by the catastrophe for the US of dispatching much of its manufacturing to China and opening its domestic market to the resulting exports from it. The fact that US companies profited handsomely from a low-wage China only created a lobby within the US on behalf of China. Powerful US commercial and financial interests that sought to profit by relocating because of lower production costs and as investors in China's resulting economic boom, now had a stake in the arrangements.
The realization dawned too late that while the project of demolishing Russia completely and turning it into a mere source of raw materials for the West, much as the Nazis had hoped, remained unfinished China rapidly became a huge challenge to US global primacy. Donald Trump only differed from Joe Biden, his successor and much of the US policymaking elite, in proposing to deal with China first and suspending the project of turning Russia into a vassal. The huge campaign to oust him was largely due to this critical divergence in policy preferences and not because he tried to shut down the border with Mexico or stop travellers from some Muslim countries from entering the US. Accusations on these issues were designed to demonise him as a human rights violator, much like the fabricated accusations against Narendra Modi of being anti-minority. Trump's detractors managed to park a faltering, cadaverous Joe Biden in the White House. However, although obliterating Russia first was given priority, the dilemmas of how to establish a comprehensive global geopolitical policy framework remained unresolved.
US policy in relation to China has given huge importance to India's role and the nature and preferences of its domestic governing elites. One critical aspect of US policy was the Indo-US Nuclear Agreement, signed into US law in October 2008, which confirmed a special waiver for India from the Nuclear Supplier Group. It empowered India and gratified its elites though it also misled them about real US intentions towards India in the bargain. The urgency of India's role in US policy has grown tremendously as China has made astonishing progress in critical technologies, all of which have defence applications. China remains a formidable foe for the US and the West despite the Chinese Communist Party's current difficulties caused by an oversized real estate bubble, the apocalyptic persistence of Covid and an inevitable economic slowdown that is stumbling towards the re-direction of the Chinese economy from exports to domestic consumption. China has begun to steal a march over the rest of the world, including the US, in everything from artificial intelligence, quantum computing, and advanced microchip design and manufacture, and it is also making prodigious advances in aerospace, building warships and space race. A very great deal can be achieved over time with a compounded savings ratio of nearly 50 per cent of GDP, even if accompanied by the colossal waste of investment. This is where India is an absolutely critical piece for the US geopolitical strategy in the game of chess that is evolving with great rapidity.
This inference leads to a story that goes back to the 1950s that few will recall though records exist in most major libraries abroad. A distinguished Canadian, one of its most important post-WWII foreign policymakers and thinkers, Escott Reid, was High Commissioner to India between 1958 and 1962, one may surmise with US approval. He had already served in the US twice between 1939 and 1945 and subsequently became the chief aide of Canadian prime minister, Lester by Pearson. In the memoirs of his time in India, Envoy to Nehru, he reveals a crucial discussion with Delhi's US CIA station chief, who told him that the Western alliance could not fight a war without Indian manpower. Of course, India had contributed the second largest anti-Axis allied contingent in WWII, after the USSR. It had also earlier constituted the indispensable mercenary army of the British empire. In the aftermath of India's partition, Pakistani forces were considered a potential alternative for deployment in any serious engagement, particularly in the Middle East.
It is the inability of the Western alliance to find significant alternative manpower to fight a major war, especially in Asia, that makes India such a vital potential partner for the US in a possible war with China. Indian forces and access to Chinese territory would be imperative to launch a land assault against China. Indian territory is one of the few areas from which land access to China exists since it is unlikely to allow North Korea to become another Ukraine by rashly withdrawing the political underpinning of the Kim family. Nor are Myanmar and Vietnam likely to allow the US to use their territory for action against China. The other country in which the US has become increasingly active in the past two decades in Nepal, courtesy of Indian acquiescence. It would be an ideal launch pad into Tibet, to severely constrain Chinese pretensions in a vast tract of land which it occupies mainly by force of arms. Neither the Indians nor the Nepalis are historically or strategically minded and will not have to remember the fate of Laos and Cambodia, used and abused by the US for its war against Vietnam. However, it might be imagined India will have noted the fate of Pakistan once its usefulness in the Cold War ceased after the Soviet Union was forced to withdraw from Afghanistan.
Yet, it is emphatically felt India is extremely unlikely to cooperate with the US to help it secure its global geopolitical goals vis-à-vis China. There is even consensus among India's foreign policy-making elites that India should not involve itself in a Sino-US war over Taiwan except perhaps to offer modest infrastructure facilities. Worse, from a US perspective and something its intelligence services would have become aware of by eavesdropping on supposedly private conversations among Indian politicians and policymakers, is the prospect that India might one day reach an understanding with China. Such a situation would leave US policy in the Indo-Pacific in tatters. These Indo-Chinese feelers become more potentially fruitful as the economic and military gap between the two countries begins to close with India's current rapid economic growth. China may eventually decide to desist from trying to eliminate India altogether as a player in a direct military encounter that India's growing empowerment would make costly. Indeed, it is likely that some highly confidential Indo-Chinese exchanges do take place on matters that would be regarded as unacceptable by the US.
It might be suspected that the Indo-China war of 1962 and its disastrous outcome were possibly designed to bounce India into the Western camp. Britain and the US may well have expected an Indian setback, overseen by some strongly anti-communist Indian decision-makers who were concerned with Nehru's alleged pro-Soviet bias. A number of key Indian Army officials as well as its IB chief had long enjoyed unusually close and suspect ties with their British counterparts and at least one politician, who later become India's prime minister, holding the important finance portfolio, has been identified as a CIA asset. He had insisted on cutting the defence budget in 1958 against the protests of the defence minister Krishna Menon. But India's political establishment was always replete with British agents, the records of which it is known were destroyed by the British authorities before Indian independence, with the knowledge of Jawaharlal Nehru. Eliciting treason from Indians has apparently been made relatively easy owing to India's long history of brutal foreign subjugation, which made cooperation with the enemy of one's own a necessity for personal survival.
The contemporary attempts to engineer Narendra Modi's downfall is a key ongoing NATO project being supervised by Anglo-American agencies, alongside the Ukraine war to remove Vladimir Putin. The instruments to subvert Modi seem to include everything from inviting Indian politicians to engage in feeble slander of India at Cambridge University, a historic base for British spies, to taking advantage of the vulnerability of Adani enterprises in an attempt to cause economic havoc. Thankfully, India proved surprisingly resilient and easily avoided calamity. The anti-Modi slanderous BBC documentary was clearly sponsored by the British Foreign Office since nothing of such consequential magnitude would be broadcast without prior approval at the highest level. The meetings of traitorous malcontents in Delhi and London, with George Soros openly declaring effective hostilities against India and her institutions, are part of the same game plan, anticipating India's 2024 national general elections. The major calculated conspiracy seems to be evidence of stirring unrest and violence in Punjab by utilizing planted Indian political assets. Although the Sino-Pak coalition would be the ultimate real beneficiary of a Punjab in chaos, there is a significant potential interim gain for other interested parties if India's politics are badly impacted by it. The patrons of Khalistani terrorists, who guarantee them safe haven within their national borders, obviously anticipate major immediate political benefits because violence in Punjab is likely to discredit the Modi government.
The goal of NATO in India, led by the Anglo-Americans, is to obstruct its autonomous economic rise because a strong India would need foreign succour less in the face of a belligerent China. In addition, an increasing number of Indians also appear to be harbouring dreams of meaningful national sovereignty and a place for their country under the sun. Their political empowerment of Narendra Modi is the most unwelcome embodiment of this aspiration for India's contemporary frenemies since he is truly striving to overcome India's thousand-year history of subjugation and degradation. The frenemies of India do indeed wish to install a weak government at the Centre in the immediate future, an aim that has been a constant for many decades as a means of controlling Delhi. It would be achieved as a result of the election of a fractious coalition dominated by the DMK, TMC, the SP and other parochial regional political parties. These are invariably led by a shamelessly ambitious virtual criminal class, without any national vision, but that would only be a first step. The real goal of the West is to create an insuperably dominant demographic coalition of Muslim voters and Christian converts to exercise an electoral veto over the Indian polity. This is why there are obsessive accusations of Muslim misfortune in Modi's India and their blatant incitement to do the worst. Success in achieving this nefarious goal guarantees India's vassalage and the restoration of its historic servitude.
The writer taught international political economy for more than two decades at the London School of Economics and Political Science. Views expressed are personal.
Read all the Latest News, Trending News, Cricket News, Bollywood News,
India News and Entertainment News here. Follow us on Facebook, Twitter and Instagram.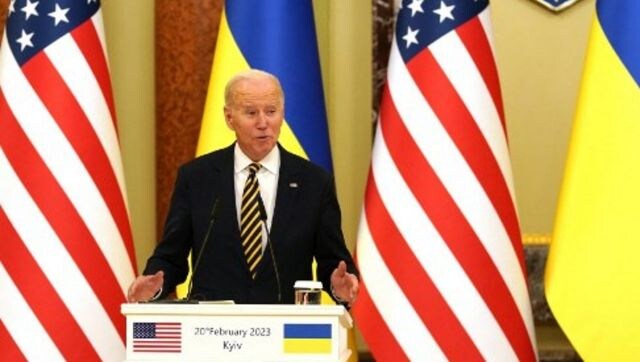 World
Joe Biden pledged increased arms deliveries for Ukraine and vowed Washington's 'unflagging commitment' in defending the war-torn nation's territorial integrity
World
According to Russian telegram channel General SVR President Vladimir Putin is scheduled to start a new treatment on 5 March after the recent one did not give the expected results
World
Darshana Patel is seeking the North County seat that will be vacated after 2024 by Brian Maienschein, who is termed out