Explained | Abolish the monarchy: Will Harry & Meghan accept Charles' coronation invitation
According to reports, Prince Harry, Meghan invited to King Charles's coronation, says spokesperson. But will they go or not is the big question.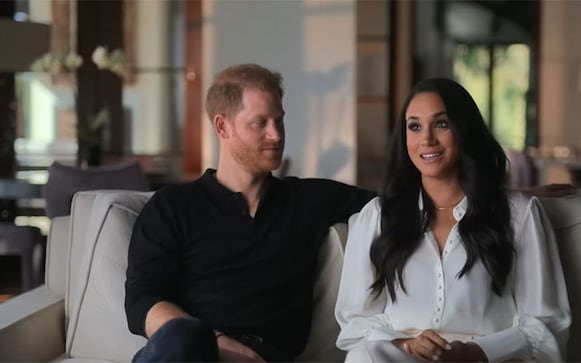 Prince Harry and Meghan Markle received an invitation to attend King Charles III's coronation – despite their strained relationship with the royal family. "I can confirm The Duke has recently received email correspondence from His Majesty's office regarding the coronation," a spokesperson for the pair told The Sunday Times on Sunday. King Charles III has reportedly officially invited the Duke and Duchess of Sussex to his and the Queen Consort's coronation this spring. A spokesperson for Prince Harry and Meghan Markle told The Times that they have received "email correspondence" about the coronation, but no decision has been disclosed about whether they will accept the invitation or not.
 King Charles III's office has been in touch with Prince Harry about the new monarch's coronation, raising the possibility the prince will attend the historic ceremony despite tensions within the royal family.
If Harry and his wife, Meghan, were to attend the May 6 coronation at Westminster Abbey in London, it would be the first meeting between Charles and his younger son since Harry deepened the rift within the House of Windsor by revealing family secrets in his bestselling book, "Spare."
"An immediate decision on whether The Duke and Duchess will attend will not be disclosed by us at this time." Charles ascended the throne in September 2022 after the death of his mother, Queen Elizabeth II.
He's set to be formally crowned on May 6, a date fans believe was chosen specifically to cause a conflict for Harry and Markle as it marks their son Archie's 4th birthday. Prince Harry and Meghan, the Duchess of Sussex, will be invited to King Charles III's coronation, a statement from the couple suggests.
They say they have been emailed about the coronation, on 6 May, but will not confirm whether they plan to attend. It is understood that some prospective guests are being asked to save the date ahead of official invitations that will be sent later.
According to BBC report, Buckingham Palace has declined to comment on invitations. There has been speculation about whether the US-based couple would be invited, and whether they would attend the coronation of King Charles and Camilla, the Queen Consort.
A statement from Prince Harry and Meghan said they had been contacted about the coronation. "I can confirm the Duke has recently received email correspondence from His Majesty's office regarding the coronation," a spokesperson for the couple said.
"An immediate decision on whether the Duke and Duchess will attend will not be disclosed by us at this time." Westminster Abbey, where the coronation will take place, has capacity for about 2,200 guests. Many public figures, politicians and international dignitaries are expected to attend, as well as the King's family and friends. Formal printed invitations are expected to be sent closer to the time, but it is believed that some groups of guests are being approached in advance, advising them to save the date.
The focus on whether Prince Harry and Meghan will come to the coronation follows revelations in his memoir about tensions with his family. This included an account of an altercation with his brother Prince William, who as Prince of Wales is likely to have a role in the coronation ceremony.
In a previous interview about his memoir, Prince Harry had declined to say whether he would attend his father's coronation, saying: "The door is always open. The ball is in their court." If Prince Harry does return for the coronation, it is not known what part he might play, as he is no longer a "working royal".
On Saturday evening (4 March), Harry took part in a new interview with author Gabor Mate, during which he revealed that the lack of physical affection he received as a child impacts the way he parents his two children, Archie and Lilibet, today. He also spoke candidly about his drug use and said that marijuana "really helped him mentally, while cocaine "did nothing" for him.
In his memoir, Spare, Harry also reflects on sharing a 'spliff' with friends in his Eton days in a tiny washroom. He writes in the memoir, "I knew this was bad behaviour. I knew it was wrong. My mates knew too. We talked about it often, while stoned, how stupid we were to be wasting an Eton education."
Harry also confessed to taking cocaine, ketamine and magic mushrooms, and described how he hallucinated that a bin was talking to him. He felt that the use of psychedelic drugs helped him deal with the grief and trauma he felt after the death of his mother, Lady Diana. He said using psychedelics when he got older 'cleared away the idea' that he needed be sad to prove he 'missed' his mother.
During the Queen's Platinum Jubilee, Prince Harry and Meghan were not part of the appearances on the Buckingham Palace balcony. These traditional appearances for the crowds will also be part of the coronation celebrations. In an online interview on Saturday, Prince Harry said he had always 'felt slightly different' to other members of his family – and that his late mother, Diana, had felt the same. Meghan and   Harry were as it is are feeling excluded from King Charles' coronation proceedings. Rejection is one of Meghan's greatest insecurities and she herself has her own complexes. She should understand that the King Charles coronation event is primarily the king's event. So how does it even matter whether Meghan is given that importance or not. As for Harry, he is a senior member of the royal family and his and Meghan's presence at the coronation is important. But I guess Meghan is embarrassed over the content of Harry's memoir Spare.
Despite multiple claims that Meghan feels excluded from the coronation, a source mentioned to the The Mirror that those allegations—as well as ones surrounding Meghan feeling embarrassed over the contents of Spare, including anecdotes about Harry losing his virginity—are ridiculous and nothing but lies. The question is even if Harry and Meghan goes how are they going to face the royal family of Britain after making so many allegations against them. Th memoir Spare and Netflix's Harry & Meghan reflected badly on them and they lost the respect and dignity from the British public.
(With added inputs from agencies)
Read all the Latest News, Trending News, Cricket News, Bollywood News,
India News and Entertainment News here. Follow us on Facebook, Twitter and Instagram.
Entertainment
Speaking at an event in Lahore, the veteran writer and lyricist added, "We are people from Mumbai, we have seen the attack on our city. They (attackers) did not come from Norway or Egypt. They are still roaming freely in your country."
Entertainment
The lower prices that began to roll out earlier this week affect more than 30 of the roughly 190 countries where Netflix's steaming service is available — an expanse that has enabled the company to attract nearly 231 million subscribers.
Entertainment
Here is why King Charles's coronation has been shunned by a number of A-list celebrities Spice Girls, Elton John and Harry Styles.